Sidelight Window Treatments In Salt Lake City
Sidelights are the tall, slender windows on the sides of your front door. They let light into your entrance, give you a front porch view, and provide a delightful decorative element for your house. But when bare, they can also give an undesirable view into your home. Fortunately, Sunburst offers the ideal solution with our custom-made sidelight window shutters in Salt Lake City.
Sidelight Window Shutters In Salt Lake City Are The Ideal Solution
No product works better for your entryway than Sunburst's sidelight window shutters. They'll provide the privacy you need with the added advantages of remarkable light management, durability, and distinctive appeal. Whether you decide on our stained hardwood or fan-favorite Polywood, the right shutter perfectly integrates with all aspects of your front entry door.
Front Door Sidelight Window Shutters Give You More Privacy
As a stranger stands at your door, you don't want them peering into your home through a sheer curtain or bare window. When you install entry door sidelight window shutters, you canfully block the view right into the interior of your home, maintaining your privacy. Of course, should you need to see outside, an easy tilt of the louvers will let you see the outdoors.
Polywood® Shutters Give Phenomenal Energy Savings
It's easy to see that an open door can cause energy loss, but you might not realize the amount of heat that can escape through windows. Sidelight window shutters will help prevent heat loss. Sunburst's Polywood® plantation shutters are so good at keeping the inside temperature in your home that they even qualify for an energy tax credit as well!
Plantation Shutters For Sidelight Windows Are Better For Families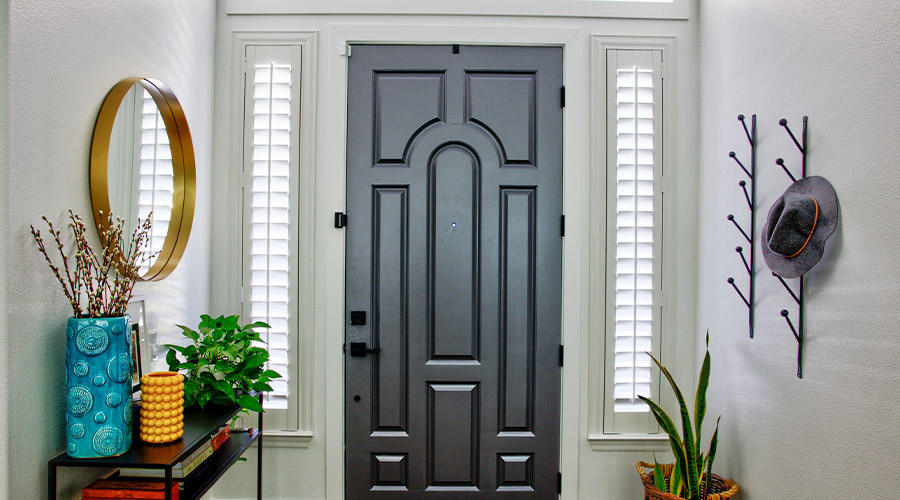 When a guest drives up your driveway, your children and pets are likely rushing to your front door to peek out the sidelights to see who has arrived. If you have flimsy blinds, they'll likely get shaken and possibly bent. Other treatments can be moved to the side, paving the way for small handprints or pawprints on the window pane. If you use plantation shutters for sidelight windows in Salt Lake City, you won't have these problems. Instead, you'll have a sturdy, long-lasting solution that holds up well to mischievous young ones. And they still provide a view out-of-doors when you open the louvers.
Sidelight Window Shutters In Salt Lake City Fit Windows Of Any Shape Or Size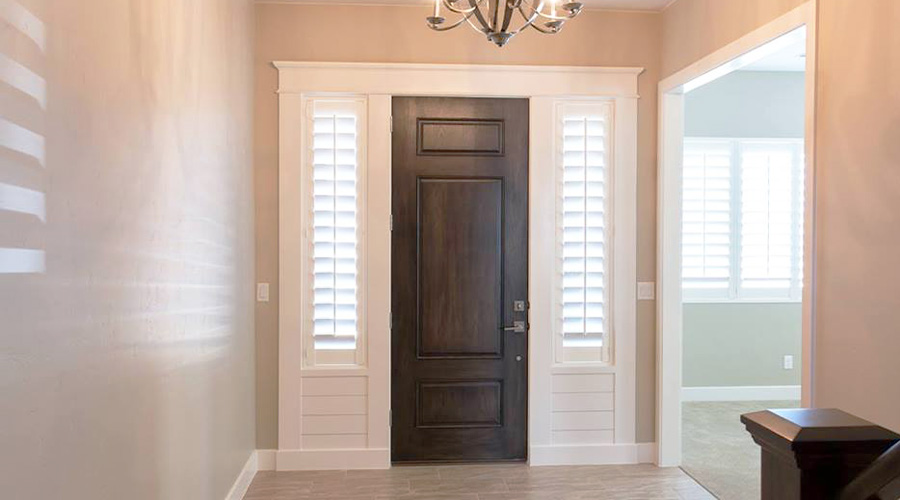 Shopping for blinds, shades, or drapes that fit properly on your sidelight windows is difficult. Sidelights typically don't follow standard sizing and might be thin or as wide as the door. A customized window treatment is your most effective answer, and that's precisely what you'll enjoy with sidelight window shutters in Salt Lake City by Sunburst. Our multi-functional solutions are always crafted to fit the exact measurements of any window.
Enjoy An Attractive, Uniform Look In Your Doorway
When you match your sidelights and door, your home will have the advantage of a uniform and stylish entrance. Luckily, Sunburst's sidelight window plantation shutters come in numerous paint and stain hues to perfectly harmonize with your particular interior.
There's Always Room For Sidelight Window Shutters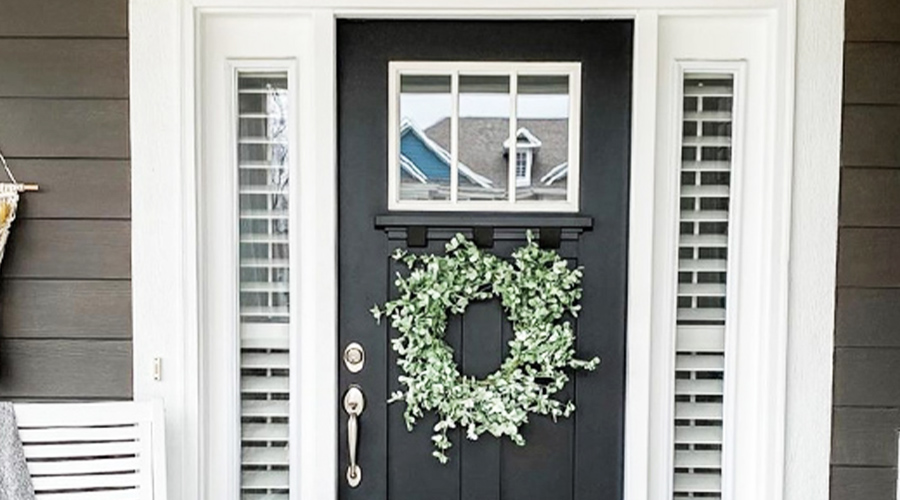 Some foyers may not have much room around sidelights. If that is the situation in your home, putting up a hanging treatment might not fit. Luckily, our sidelight window shutters are installed over the frame, so they remain functionable and look gorgeous no matter the surrounding area.
Our Sidelight Window Shutters Always Stay Still
One of the great things about our sidelight window shutters is that you don't have to worry about them shifting, swaying, or slamming against the glass. They consistently stay secure. On the other hand, drapes, shades, and blinds can be impacted by the vacuum effect that occurs when you use the door. They will usually swing, rattle, and might also get shut in the door.
Frequently Asked Questions Concerning Sidelight Window Shutters In Salt Lake City
Q: What sorts of shutters can be installed on sidelights?
A: Our Ovation® hardwood, Polywood® shutters reclaimed wood shutters, and Studio Shutters are all suitable for sidelights.
Q: Can shutters be installed on the glass cutout in a door?
A: Yes! If you have a window cutout in your front door, we can install a custom shutter frame around it.
Q: Do sidelight window shutters have to include a tilt rod?
A: Not always. We offer plantation shutters with a "hidden" tilt rod, so you only see those traditional louvers.
Q: Can you custom-build interior shutters for sidelight windows to match the color of my door?
A: Yes! We can build shutters in various wood stains and paint colors. We can figure out a solution for virtually any door.
Learn More About Sidelight Window Plantation Shutters In Salt Lake City
You can find out our sidelight window interior shutters without leaving your Salt Lake City home. Request a complimentary consultation, and a knowledgeable window treatment pro will come to you! You'll get the chance to see how an assortment of window treatments look before making [your final selection. Call 801-515-3598 today or submit our simple form to get started.