Tips For Choosing A Waterproof Window Treatment in Salt Lake City
Wherever you live, from Salt Lake City to the furthest coast, your home shares a need with almost every other house in America: waterproof window treatments. No matter the style of your home, the outdoor climate, or the size of your family living in your house, you'll typically have the same moisture-heavy rooms: the bathrooms, kitchen, and laundry room.
Obviously, not every window treatment is created equal in regards to how capably they handle humidity and moisture. To make it easier to understand, we'll break down proficient each window treatment is at handling water and find out which ones work best in the areas that encounter the most water.
Level 1: Window Treatments That Don't Stand Up To Moisture
Smart Salt Lake City homeowners know that there are certain materials that won't mix with moisture. Go ahead and ask the owner of a hardwood floor what water does to lumber. Solid wood does not get along with moisture, as it makes wood expand and warp, which may render wood window treatments unusable. Constant exposure to moisture may also turn the existing pockets of the lumber into a haven for mildew. For these reasons, solid wood furnishings and window treatments should stay far away from moisture-heavy areas like the bathroom.
Fabric window treatments are also not on great terms with moisture. Though the wear to fabric won't be as extensive or easy to see, long term and repeated exposure to water can compromise the weave of many fabrics, which can lead to color fading and fabric thinning.
Level 2: Water-resistant Window Treatments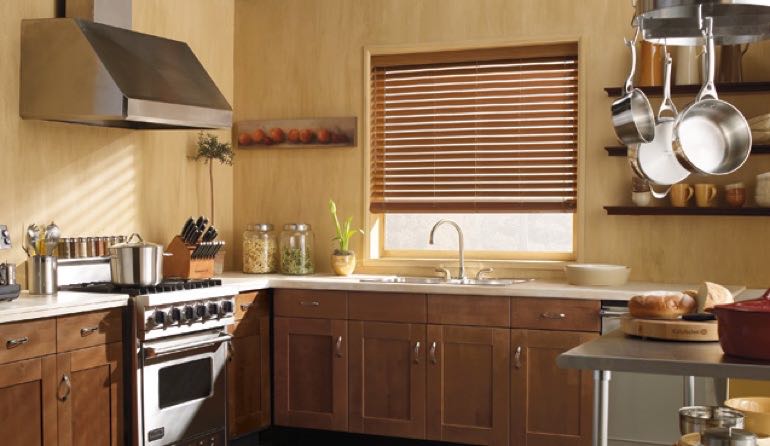 Though not strictly waterproof, window treatments in this classification aren't susceptible to long term damage when used in damp rooms. This level of window treatments comprises just about every product designated "faux wood," like
faux wood blinds
. Faux wood blinds can give you the beauty of a natural wood window treatment, adding contemporary fashion to your bathroom and much-needed privacy, without the worry that homeowners might get every time it becomes too steamy.
Alternative window treatments that are able to resist almost all wear from water are aluminum blinds. Though not offering the same interior fashion appeal and coverage that different window treatments do, aluminum blinds are adaptable. They're offered in a huge variety of hues, with cut-out options and additional features for privacy, at the same time being a great fit for rooms that see moisture. But blinds that possess cords or fabric bands are not optimal for moisture-rich areas.
Level 3: 100% Waterproof Window Treatments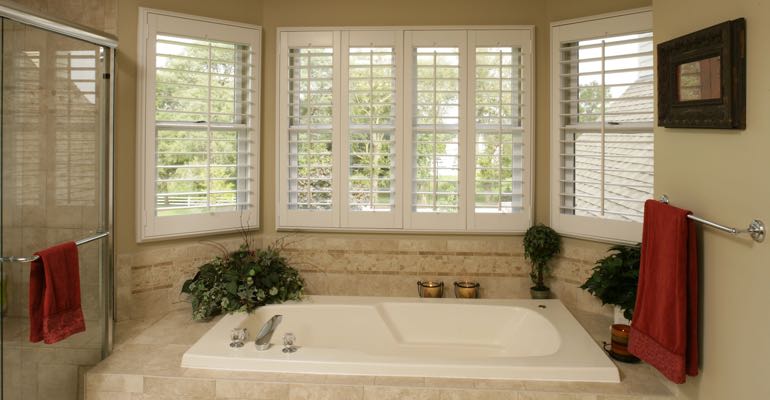 Here's the level we've waited for: the window treatment that can shrug off humidity, dampness, liquid and more like nothing else. Sunburst Shutters Salt Lake City is proud to offer one of the few completely waterproof window treatments available in our
Polywood® plantation shutters
. A fantastic window treatment for the bathroom or laundry room, Polywood shutters are constructed from a special compound that is completely invulnerable to the debilitating effects of moisture, whether produced inside your home or from the weather outside.
Don't believe it? We've seen how well Polywood can survive the elements, and we're so sure of its durability that we guarantee every shutter with our Lifetime Limited Warranty. In fact, if you wanted to, you could blast Polywood shutters with a hose and they'd still function fantastically, without any issues.
Make Sure Your Windows Are Ready For Anything, Salt Lake City
If you live in a rainy or coastal part of the country, or if you want more effective window treatments for the areas of your home with moisture, a waterproof window treatment ought to be your top concern. Let Sunburst Shutters Salt Lake City help by calling
801-515-3598
to set up your free in-home design consultation. And to get further suggestions for those rooms and beyond, check out our new
Ultimate Room Guide
to find the most effective window treatments for every room in your Salt Lake City home!