Salt Lake City Window Treatment Ideas For Doors with Half Glass, Full Glass, And Custom Windows
A door that showcases a glass window adds an open feel to your interior and brings in the benefits of sunlight. But what happens when that window faces the blinding sun or gives outsiders a view into your Salt Lake City residence? Interior shutters, transitional shades, and Roman shades all deliver appeal and protection if you're looking to install Salt Lake City window treatments for a door with half glass, full glass, or more customized windows.
Install Durable Shutters For Attention-Getting Salt Lake City Window Treatments On Doors With Half Glass, Complete Glass, And Custom Windows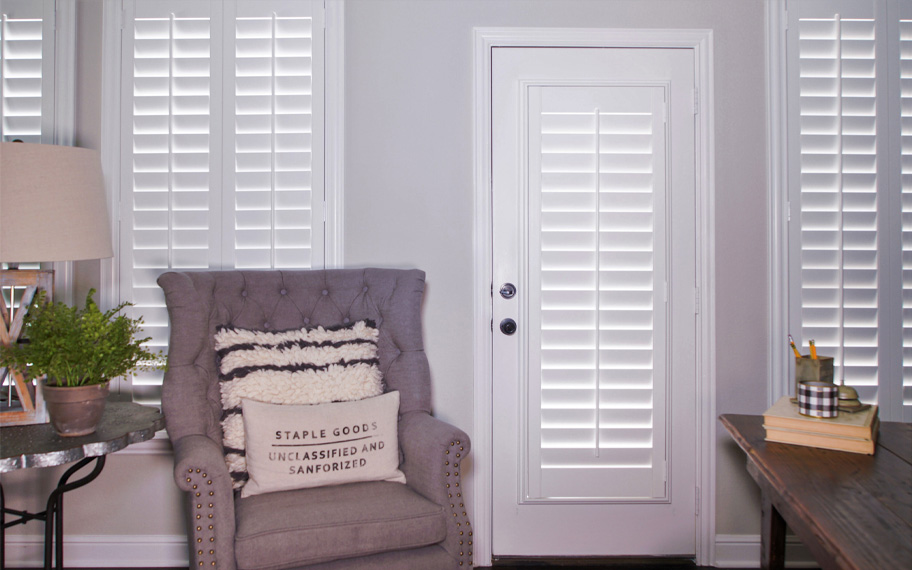 Your entrance is always something visitors notice about your Salt Lake City home, so your window treatment should leave a positive impression. Faux-wood shutters are impressive on doors. They add a focal point to your entrance, and the movable louvers allow you to manage the the amounts of privacy and light. Plantation shutters are also the perfect Salt Lake City window treatments for doors with half glass, total glass, and round glass features since they fit windows of any size or shape. Customized shutters will fit an [[arched or circular window's shape]67] when other window treatments can't.
Polywood® shutters are the most durable window coverings you can select for your doors. They will hold up against jostling from little ones and pets rushing through the door, and messy prints from hands and paws wash away in a cinch. Polywood shutters won't warp or split from cool or humid air entering past your door. And they don't smack or swing against the door like standard metal blinds. All of this means they stay looking beautiful for longer..
Use Roman Shades To Manage Light With Style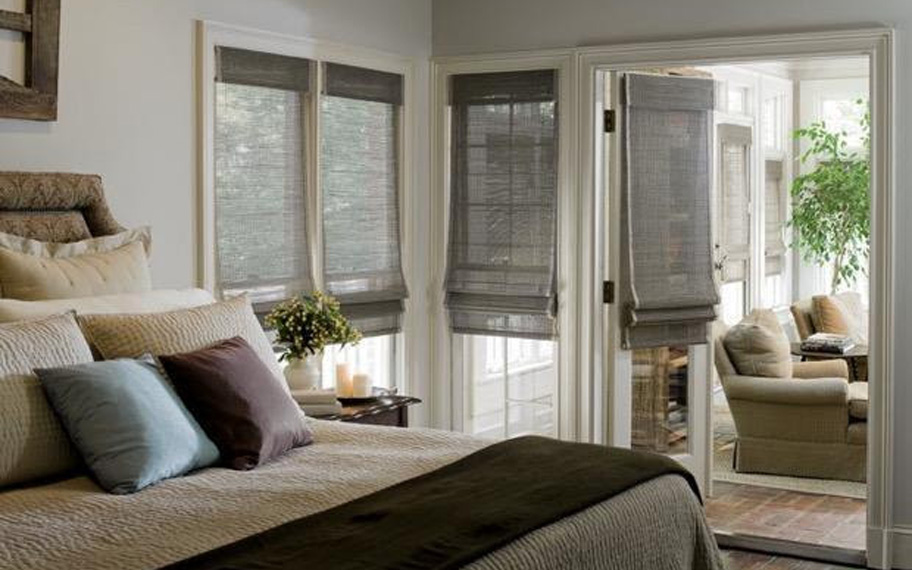 Doors constructed with glass inserts are attractive but may cause a problem if they let in the sun's glare. Fashionable Roman shades are terrific Salt Lake City window treatments for doors with half glass or whole glass due to the fact they are available in many different opacities. When your door faces east or west, you can use an opaque shade to limit full-on sunshine. If you have a structural or natural element that will offer shade, a less opaque choice will let in softened light. You also have the option of using versatile top-down/bottom-up products for a nice injection of light while still maintaining your privacy.
Roman shades also come in a multitude or styles to complement your Salt Lake City house's architectural style and palette. Patterned shades dress up what is likely a basic glass door. When your door has bevelling or colored glass, choose a shade of uniform color so you don't have a design mismatch.
Incorporate Zebra Shades For Complete Control of Sunlight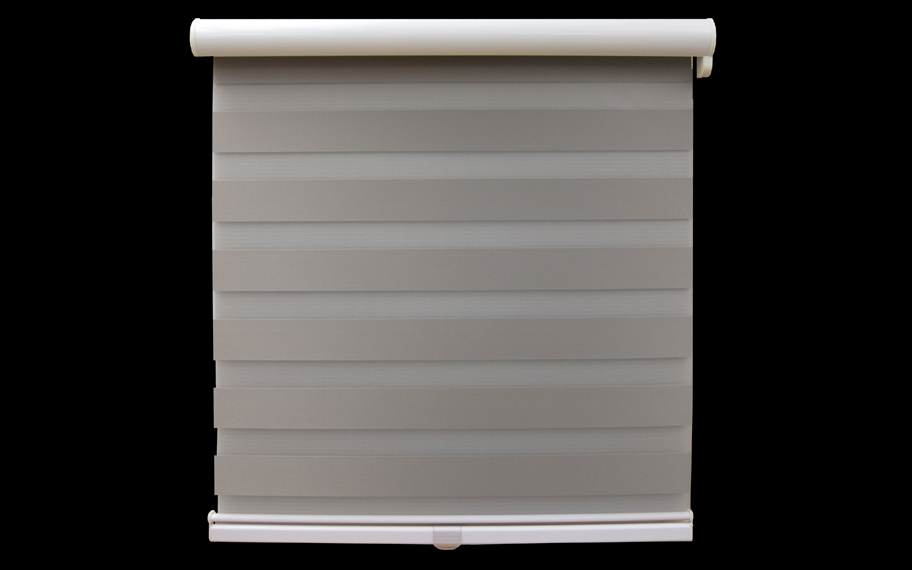 Zebra or transitional shades offer the benefit of total privacy with flexible light control. They are made from thinly cut material and stay close to the door. Zebra shades are a unique take on roller shades and they utilize an uninterrupted loop of fabric with alternating solid and sheer stripes. The front panel of fabric can line up with the back panel so you have the ability to see through the transparent material and welcome in natural light or set the opaque sections over the see-through parts to obstruct light flow while ensuring privacy.
Transitional shades are available in a wide selection of colors, patterns, and fabrics. You can also choose how to adjust your zebra shades. On a door, the most sensible selections are cordless window treatments since cords will get twisted or trapped in the door jam. For effortless operation, you may choose a motorized shade that moves quietly with the push of a button when you want a change in the levels of outdoor light and privacy.
Enhance Your Door With Window Treatments From Sunburst Shutters Salt Lake City
At Sunburst Shutters Salt Lake City, we supply only the best interior shutters and shades for your doors with glass panes and all of your other window types in your Salt Lake City home. Just let our consultants know what you have in mind, and we'll recommend attractive and functional options for all of your needs. To request a complimentary on-site appointment, dial 801-515-3598 or fill out the form below.