Office Improvements That Make Working from Home Easier In Salt Lake City
Nowadays, remote work has become the way it goes -- and brings some unique obstacles.
Whether you're a telecommuting connoisseur or want to create a small office area temporarily, you don't always need to set up shop at your living room couch. The key to an effective home workspace is using items that will make life simpler for everyday work situation. And this area should also spark joy since you have to sleep here, too.
From space-saving desks to energy-efficient plantation shutters, we'll offer five easy home improvements that allow you to work from home easier.
Your Home Office Should Be A Separate Space
While plopping down on the sofa and banging away on the laptop may look luxurious at first glance, not splitting up work and relaxation can be a detriment to your productiveness.
If you don't yet, create a workspace in your home. This space should be yours, leaving non-work activities for other parts of the house. This should help you steer clear from distractions. You don't necessarily need a heavy oak desk and a dedicated outside entrance, but at least try to dedicate a small table and chair that is "work only."
Have a corner in the living room that would double as a home office? make a hidden retreat in your room by installing a simple, elegant sliding barn door or panel track to divide the room.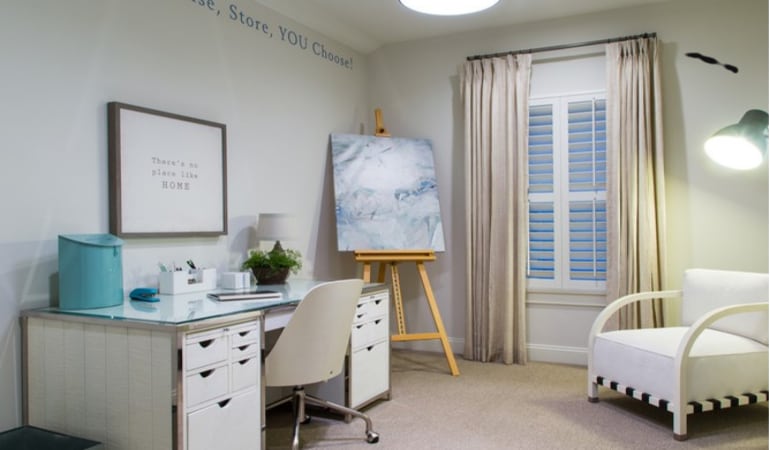 Pick A Desk That Accommodates Your Work
When most of the workday is spent in a chair, you need a workspace that has good support while integrating your spatial needs. And that means finding the perfect desk.
But, a word to the wise: avoid a "this is fine" desk solution. A side table that poses as your work surface during the day will only invite frustration. You want a surface that adapts to your workplace rituals. If you only use a laptop, a mini office desk or work-only table can work. But if you're juggling papers, or prefer a complicated PC setup, you may need a wider surface.
If you can't get a conventional desk, create one from alternative materials. An old door or MDF board on top of storage cubbies can easily transform into a versatile work surface. The more your desk fit your needs, the easier work from home can seem in Salt Lake City.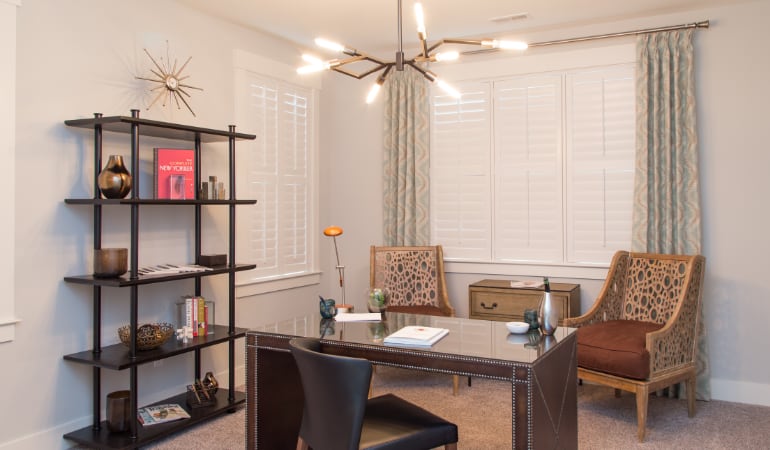 Adjust Sunlight With The Right Window Coverings
Adequate lighting can make or break your daily video call. Not enough backlight and you're bathed in shadow, but try to talk while dealing with sun glare, and you're looking like a ghost. The amount of sunlight can also be the difference between a good day, and a day that finds you making many visits to the coffee maker.
To make work at home easier, you'll want a window treatment that can handle light. Plantation shutters, for example, have large louvers that can be adjusted so that your desk always has the correct level of natural light without harsh sun glare. They will also block outdoor racket, like traffic or pedestrians. And if your interior shutters are made of Polywood®, they can also help with energy-efficiency.
Luckily, plantation shutters are a beautiful addition to your space, not to mention they are a snap to clean and operate.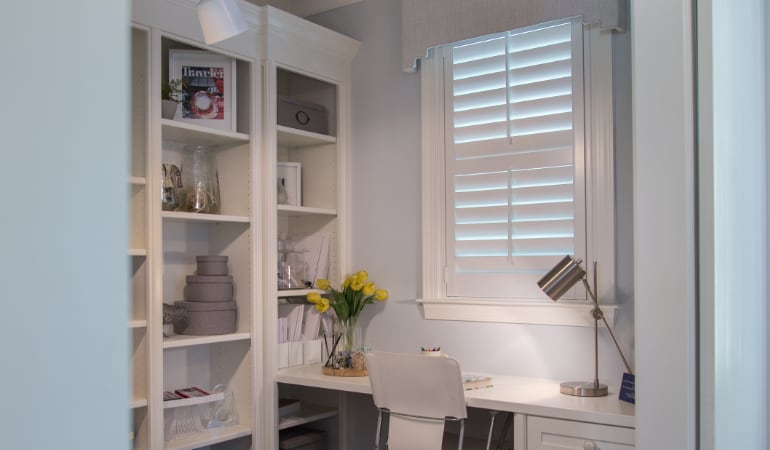 Change Out Your Seat From That Uncomfortable Chair
After a few days in your newer work from home space, you might be realizing that working from that stiff folding chair just isn't working.
Opt for an an actual office chair to become more comfortable, or improve your current seat with a back support pillow if you need to make it last a bit longer. Or, you can opt for a standing desk, and that would circumvent your chair dilemma.
It's OK To Experiment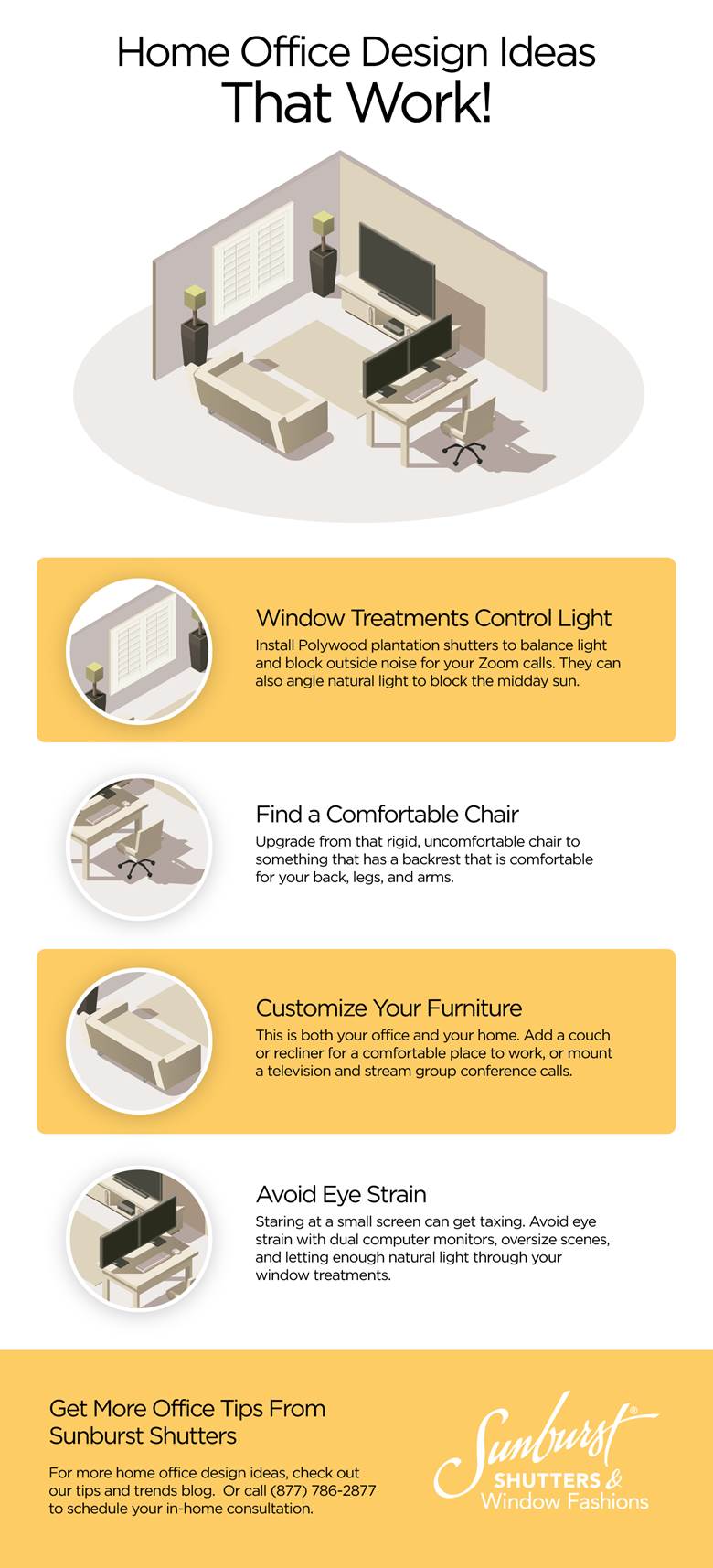 One of the benefits of working from home is that you are able to sort your area outside the usual corporate floor plan. However, sometimes settling on the optimal set-up takes time and plenty of experimentation. And sometimes it takes thinking outside the box.
Always question yourself about what the best way to set up the office. You might need two monitors instead of a lowly 15-inch screen. You might even want three. Or maybe you perform best by using a wireless keyboard and mouse and a few oversized screens hung on the wall. Whiteboards, foot massagers, and overstuffed recliners -- it's your choice. And if that doesn't work, you can switch it out without having to go through an Order Request Form.
Begin your Home Office Upgrade in Salt Lake City with Sunburst Shutters
Are you ready to enhance your home office? Just call
801-515-3598
or submit the form below to reserve your in-home consultation. Our experts at Sunburst Shutters Salt Lake City will help you pick the window treatments that can take your work space to the next level and make work at home easier in Salt Lake City.