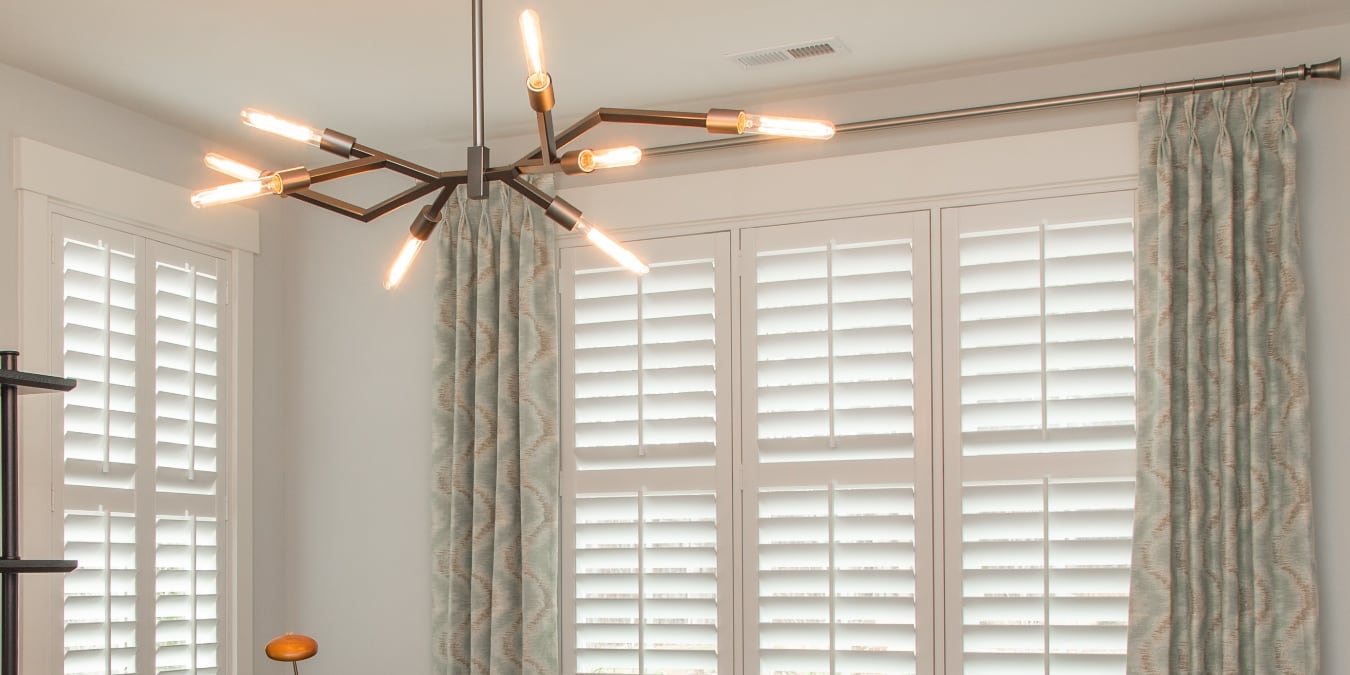 Home Office Window Treatments In Salt Lake City That Work For You
If remote work is your new way of life these days, you likely need some guidance in improving your Salt Lake City home office. You can begin with your window treatments. Need to see a quick comparison of the different home office window treatments?
Here is a link to our window treatments chart, for window treatments perfect for your home office.
Products like plantation shutters and motorized window shades are smart home office window treatments for Salt Lake City workers who wish to keep comfortable and focused while working without compromising your home's unique design. These treatments are even capable of helping you look your best during teleconferencing! Here's how to use these window treatments to your best interest.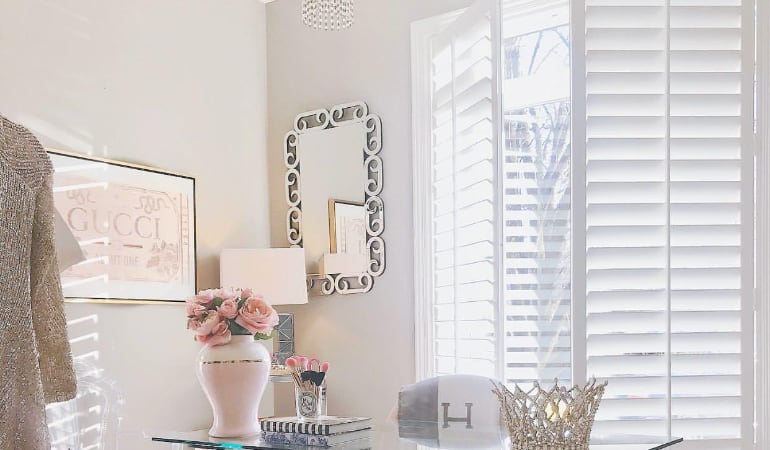 Plantation Shutters: A Top Choice In Home Office Window Treatments In Salt Lake City
Working remotely has its own set of challenges, so select home office window treatments in Salt Lake City that can optimize your space. Plantation shutters' unique design makes them a winning option when you'd like to manage your area's temperature and light levels.
An advantage of working remotely is that you get to control the temperature. However, you aren't looking to increase your energy costs by relying on your HVAC system every hour of the day. Polywood shutters with insulating qualities can help. When it's hot and sunny, keep your shutters closed to maintain a cooler home office and limit the glare on your monitors. In the winter, that same insulation keeps drafts at bay.
Looking to lower your electric costs or fed up with sitting in a dim office? Tilt the louvers on your plantation shutters for filtered light that you can direct away from your screen and into dark corners. Shut them again to limit distractions such passing traffic and dog walkers. You can keep them closed for privacy after dark if you end up working late.
If you want a little more appeal in your home office, the clean lines of plantation shutters create a dazzling design component that dresses up even the plainest office window. They come in a multitude of adaptable colors as well. Whether you choose fashionable white Polywood shutters or a warm-toned hardwood shutter, your new home office window treatments will make you excited to work from home!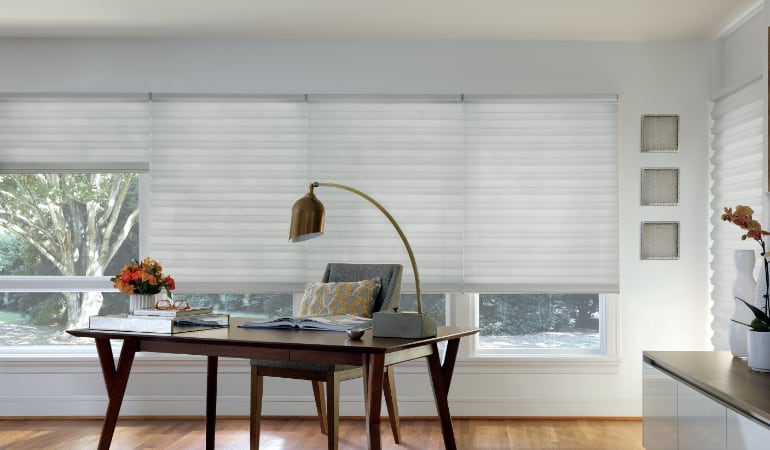 Motorized Window Shades Provide Variety And Convenience for Salt Lake City Remote Professionals
Similar to interior shutters, many styles of shades deliver privacy and comfort control for your work space. Light-suppressing blackout shades block distracting glare. Energy-efficient cellular shades protect you from chilly drafts and keep warm air in. Transitional shades let you choose between light through a gentle filter or complete dark.
Window shades are available a range of colors and styles to suit your tastes and deliver the work atmosphere you'd like. You might like something stylish like Roman shades that provide an elegant backdrop during video conferences or something simple like roller shades to avoid distractions.
If you've decided on the style of window shade you plan to buy, explore the motorized version to enhance your workspace further. Motorized window shades are controlled by a remote device instead of manually. This offers more flexibility for managing the light in your home office.
When the sun moves and a glare disturbs your focus, you can adjust your shades with a tap of the remote without getting up. If the sun is impacting your appearance on a remote meeting, or you see that your work area looks too dark on screen, you can let down or raise up your motorized shades right from your workstation without interrupting the meeting. Your manager and co-workers will be amazed by your professional workspace when you improve your home office window treatments in Salt Lake City.
Are You Still Wondering Which Window Treatments Is Right For Your Office? We've Put Together This Chart To Help Compare All Of Your Choices.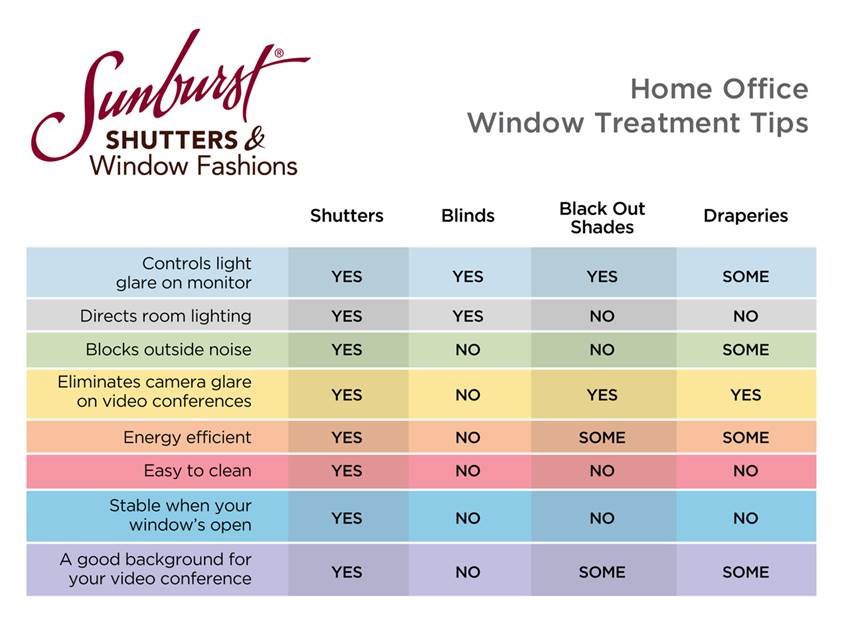 Get To Work In Your Salt Lake City Home Office with Window Treatments From Sunburst Shutters
You will stay focused and productive when your window treatments limit distractions while keeping you comfortable. Talk to the window treatment experts at Sunburst to select the best options for your home office. For a free in-home consultation, call us at 801-515-3598 or submit our simple form.