Five Tips To Create The Ideal Media Room In Salt Lake City
The latest audio and video technology makes it simple to enjoy movies, gaming, and television as you kick back in your own media room. This is the reason why Salt Lake City families are increasingly creating home media rooms. But what do you need to design an incredible home media room? From the right window treatments to soundproofing, explore these five ideas for creating a media room in Salt Lake City that all family members will enjoy.
#1 Take Charge Of Exterior Light With Plantation Shutters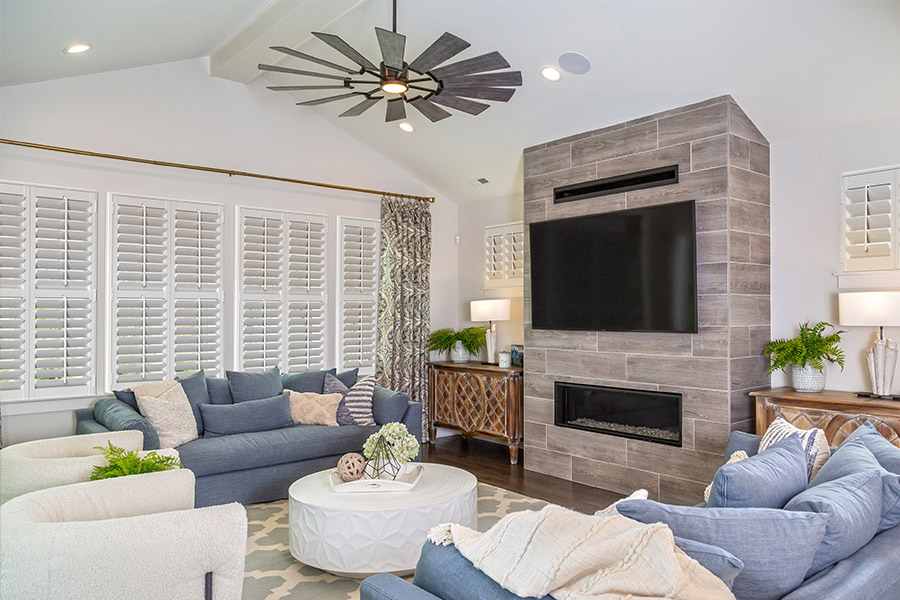 Not much can mess up your favorite show like the sun's rays on the screen. Light dimmers help, but what about outside light? Choose
louvered shutters as window treatments
in your media room in Salt Lake City for the best light management. Louvered shutters feature a framework that surrounds your window to inhibit exterior light. These sturdy installations also incorporate panels on hinges with moveable louvers that shut tightly to give you near-total darkness. Or tilt the slats as you wish to shift sunlight off TVs or your face without having your room resemble a black hole.
In the event you use Polywood® shutters, you'll enjoy better energy conservation as well. These faux-wood shutters halt heat from the sun and drafts to keep your media room at a comfortable temp. They can prevent as much as 30 degrees of heat transfer, saving you money on utility costs.
#2 Enhance Your Media Room's Sound Quality With A Few Doable Refurbishments
Once you address the lighting in your Salt Lake City media room, tackle the acoustics. Drywall works well for your media room's walls, but the concrete in your basement devastates the clarity of sound. The most straightforward way to prevent echoes in your lower ground media room is by installing acoustic panels. If you have to soundproof your media room, select easy-to-install sound absorption or sound barrier products. You can combine those with window treatments, like shutters, to control exterior noise.
#3 Select The Proper Equipment
The proper devices will deliver superior acoustics too. First, select a surround sound setup. Many residents prefer devices with Wi-Fi capability as you don't have to worry about running wires.
Don't forget about getting a high-def television. LED and LCD screens offer excellent brightness, but 4k TVs often have greater contrast ratios and wider viewing angles. You could also go with a projector and screen for a large media room. Whichever video option you pick, place it higher up your wall for the best viewing angle.
#4 Pick Out Comfortable Seating Options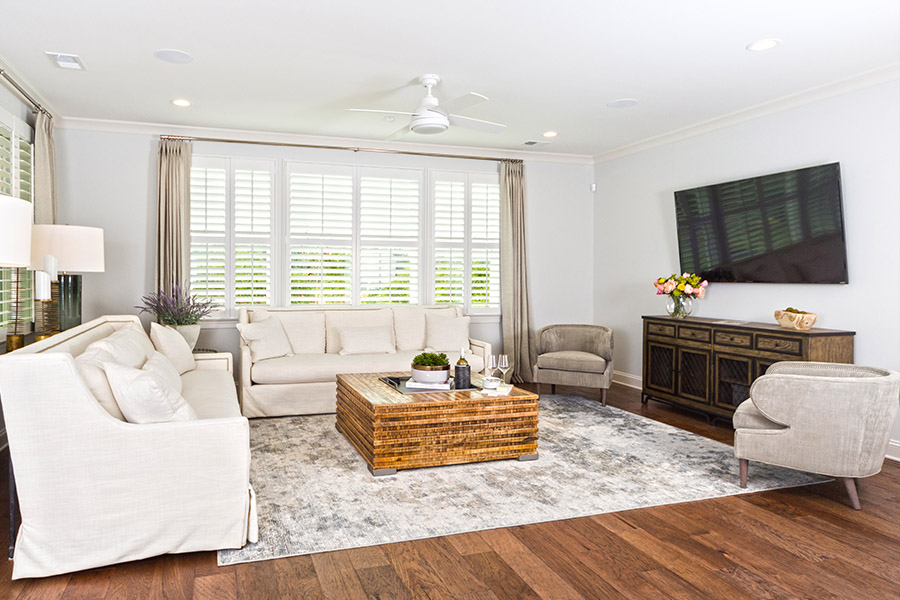 You can't be entertained by your favorite show without a comfortable place to sit. If your goal is home theater vibes, look for the appropriate seats with reclining functionality and incorporated drink holders. If you plan on gaming, invest in some well-designed gaming chairs. A spacious sectional is a smart choice as well. Also, be sure to remember a few super-soft blankets and pillows for extra cozy movie marathons.
#5 Set The Tone With A Fun Theme
You can decorate however you want when creating a media room in Salt Lake City. Do you associate with a specific movie franchise? Do you want to create the sense that you're sitting in a real theater? Oversized movie posters, a classic popcorn machine, and vivid colors can promote the intent of your media room.
If you're looking for a more subtle look, design around your choice of color combination. Warmer shades with wood finishes and matching Ovation® shutters will allow your media room to feel snug. Or make it feel open and inviting with soft neutral hues and Polywood shutters.
Talk To Sunburst About Window Treatments For Your Media Room In Salt Lake City
The experts at Sunburst Shutters Salt Lake City are here to help you pick the best window treatments for your media room. At your free in-home meeting, we show you how sample products look in your space before you make your ultimate choice. Arrange yours today by dialing 801-515-3598 or by completing the form below.