Farewell Outdated Window Treatments For Entry Door Sidelights In Salt Lake City, Utah!
The entry door is a key design element of your Salt Lake City home - and one that guests take note of when they walk up to ring the bell. Glass sidelights add to the beauty of the front door. At the same time, they reduce your overall privacy. That's why window treatments are an excellent option for your entry door sidelights.
A share Salt Lake City residents have opted for traditional window treatments for sidelights, like shades and blinds. But they may not have realized there's a more stylish choice: entry door sidelight shutters.
Entry Door Sidelight Blinds & Shades
Blinds, shades, and other old fashioned window treatments might be the first window treatments you think of when it comes to sidelights. You can find them in home stores in sizes close to those of your entry door sidelights. And youhave a grasp on how to mount them and operate them.
But blinds and shades for sidelights have some concerns to think about before purchasing them. First, they're likely to sway any time the door is used, when the wind bounces the slats against the glass. This creates unwanted noise. One solution is to tie them down at the bottom. But this might change the style and do little to reduce the noise. Second, blinds and shades give you privacy but aren't suited for temperature control. The frail material does little to block the external temperature - warm or chilly. And third, blinds and shades don't have the customized style that impresses your guests as they enter through the entry door. Plantation shutters do.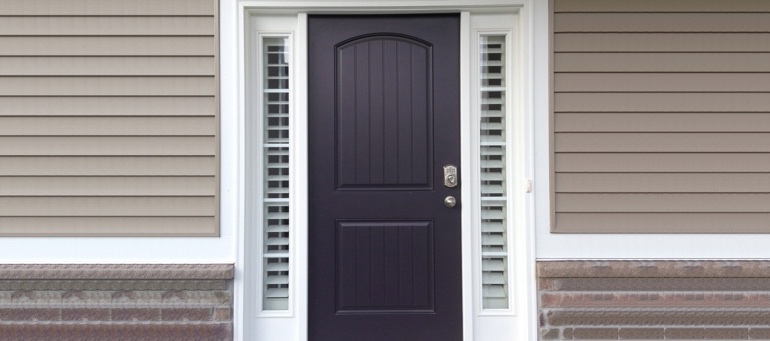 Plantation shutters
are the contemporary window covering you've been searching for in Salt Lake City. Made from hardwood or wood substitute, shutters for entry door sidelights are installed on the frame of the door while giving the louvers enough room to tilt. This way, using the main door does not lead to any noise.
Closed entirely, plantation shutters provide
total privacy and control over temperature
. Just move the louvers using a tilt rod to let in more of the view and the light. And
Polywood®
plantation shutters louvers insulate against 30° of temperature and decrease airflow by up to 45%.
The beauty of plantation shutters for sidelights isn't limited to energy savings. With a wide selection of louver sizes, frame styles, wood stains, and a paint matching program, you are finally able to enjoy the contemporary style you love. Our professionals guide you in picking custom window shutters for your entry sidelights. And we'll mount them to fit your sidelights perfectly.
Say Hello To Entry Door Sidelight Shutters For Your Salt Lake City Home
Ready to get rid of you outdated window treatments and say hello to shutters for entry door sidelights? And if you want the same style of shutters for your
French doors
or
patio door
, we sell those as well. Call
801-515-3598
or fill out the form below to schedule your free in-home design consultation today!