Eyebrow Window Treatments Are No Longer Tricky
Eyebrow windows are a type of arched windows that can be found in homes in Salt Lake City and can be a challenge to accessorize with window coverings due to their shape. Their signature shape of being long and curved up top means that the usual rectangular shape of blinds, draperies, and shades hide their curves and the aesthetics they bring to your home. So it's best to find a window treatment that can complement your window's shape.
The Window's Location, Size, and Function
The first step in choosing eyebrow window treatments is to consider the window's location, size and function. Big eyebrow windows that are in bedrooms or living areas should have some kind of covering to adjust for light and coordinate with your home's décor. Many similar windows in living areas are set atop a larger standard window. So you may need a window treatment that protects and integrates both kinds of windows accordingly.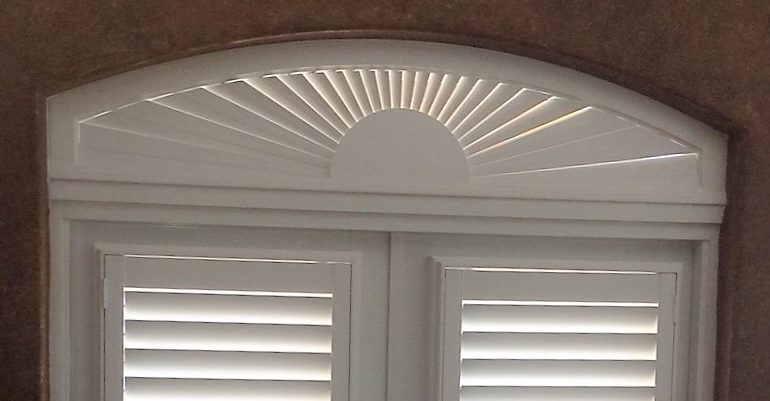 If your home's eyebrow windows are mini dormers whose design is to let light into the attic, then you might not need to cover these windows unless you wish to add curb appeal from the exterior. Though, if youreyebrow windows are bigger or are in a frequently used room upstairs, you may want to think about covering them to have control over light levels and privacy.
Custom Plantation Shutters
Polywood® plantation shutters are our number one choice for eyebrow windows. They are able to be used on both upper eyebrow windows and lower square windows to give a seamless look to your windows. In most cases, the louvers on your shutter can either be arranged in a sunburst shape or horizontally. Every shutter we make is customized to fit your window's unique curves by utilizing advanced templating technology.
Polywood shutters can be ordered in five shades of white and natural wood colors, as well as a variety of paints to match with your existing home design. If you prefer a wood look, Ovation® plantation shutters are also able to be customized to fit eyebrow windows.
Window Film or Tint
Window film or tint can be applied to arched windows either on its own or alongside another window treatment. The window film will block light entering through the windows to keep your irreplaceable belongings from discoloring. One drawback of window tint is the fact that it doesn't offer as much privacy as other window covering.
Get Beautiful Window Treatments For Your Eyebrow Windows
Regardless of the exact shape of your unique window, Sunburst Shutters Salt Lake City has the answer. Look through our
idea gallery
for ideas on covering arched and eyebrow windows and then call us at
801-515-3598
for your free window design consultation today.