8 Ideas for Using Reclaimed Wood in Your Salt Lake City Home
This might come as a revelation to you, but reclaimed wood is all the rage with Salt Lake City homeowners, who by all accounts appreciate its natural look and how it spruces up their home décor. It's a trendsetting way to upgrade weathered wood and gloriously unleash your own distinctive style. Reclaimed wood products tend to make a favorable impression whether on a wall, your cabinets, or – imagine it! – your windows. In need of a bit of reclaimed wood inspiration? We've gathered 8 sensational ideas for you – all applied to marvelous effect in Salt Lake City homes.
1.Reclaimed Wood and Windows
Believe it! This is a first: reclaimed wood – that décor alternative you've long wished you could incorporate in your home – is now, finally, available to you in an attention-getting window treatment. Sunburst Shutters now offers a plantation shutter formed from the best-quality reclaimed wood. As you'll surely discover, Sunburst is the lone company offering reclaimed wood shutters in the Salt Lake City area. We searched high and low for the reclaimed wood you want and used it to create a louvered shutter that's as functional as it is beautiful.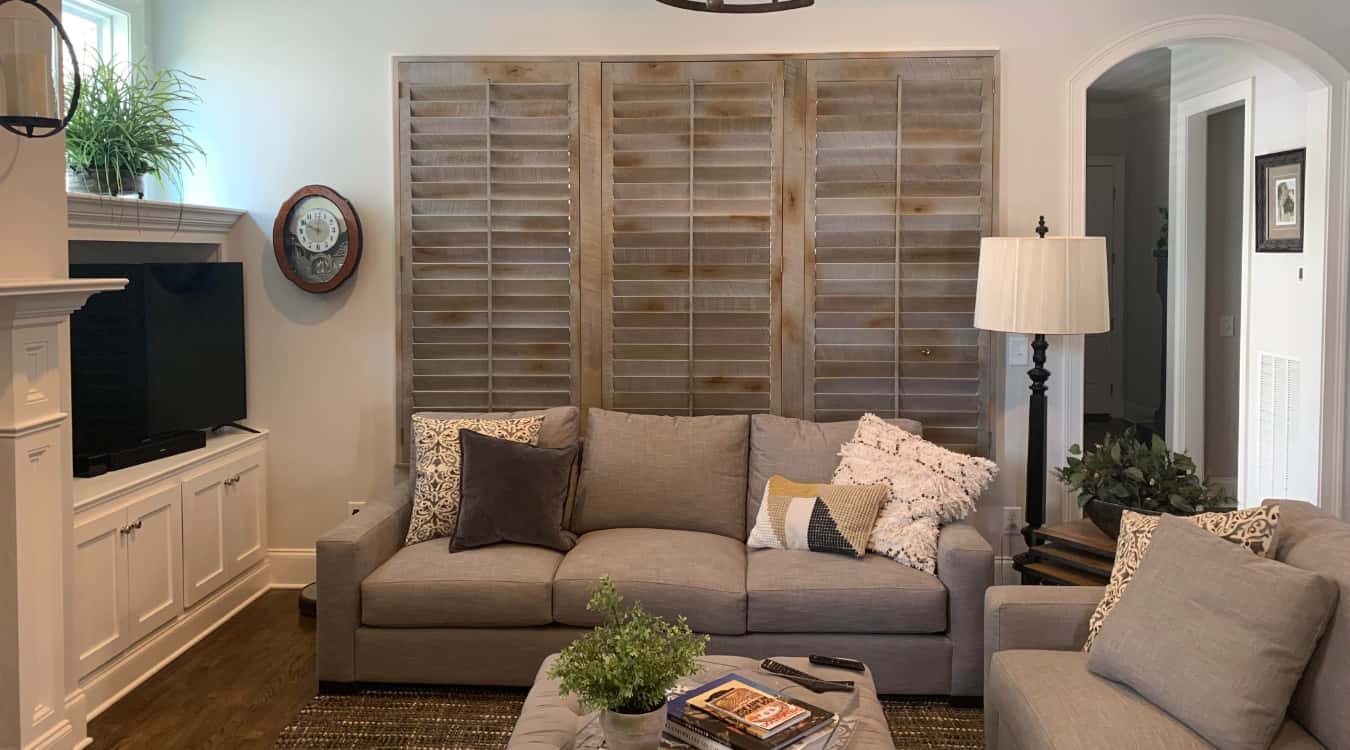 Reclaimed wood can make for a most unique window treatment. You've got a head start, for sure, when your reclaimed wood shutters are a masterpiece in themselves. And Sunburst makes sure they are. You'll love their smooth, simple operation as well as their look. Tilt the louvers open to bring a little light inside. And tilt them closed to accentuate the weathered look of reclaimed wood on your window. Don't simply take our word for it, though. There's a lot more to learn about reclaimed wood for windows in Salt Lake City. Explore!
2. Reclaimed Wood for Your Wall
Bring the outside in with a reclaimed wood wall. Reclaimed wood paneling accentuates your wall and lends a comforting feel to the room. It doesn't matter if you have a fireplace, artwork, TV, or bookcase you want to show off, a reclaimed wood wall will look beautiful behind it and give you the very effect you seek.
3. Redo Your Floors in Reclaimed Wood
Been thinking about redoing a floor in your house? Wood flooring of any kind can lend warmth to a room, but flooring of reclaimed wood has a unique beauty so much dependent on the time – usually decades – the wood has remained in its natural habitat. Regardless of whether you're partial to being outside in nature or merely one who likes the look of weathered wood, you'll be thrilled with what a reclaimed wood floor can do to make your home come alive.
4. Reclaimed Wood and Cabinets
This is the perfect time to give your kitchen cabinets a sprucing up with reclaimed wood. It's the natural way to revive your entire kitchen. Every panel of reclaimed wood tells a fascinating tale – of decades hidden away in an old building, for instance, or in the crumbling structure of a barn or fence. And a bit of that story will remain in your reclaimed wood cabinets, coming to mind every time you're around them.
5. Reclaimed Wood and Tables
Tabletops partially or completely made of reclaimed wood can lend a modern, assuredly novel touch to your dining room or home office. Meld the subtle, natural hues of reclaimed wood with your overall interior design to achieve a consistent, agreeable look that comforts you – as it awes your guests!
6. Reclaimed Wood for Bookcases
Aside from what other things we might cherish about them, books make excellent decorative pieces. Set a book or group of books on a coffee table or end table, on a bookshelf, or in a big bookcase, and they're certain to make a good impression. Their charming variety is both called out and complemented in bookcases of natural wood, too. And bookcases of reclaimed wood, due to their natural colors, knots, holes, scratches, and other traits, are a particularly attention-getting, one-of-a-kind décor item.
7. Pics "Pop" in Frames of Reclaimed Wood
The rustic, natural look of reclaimed wood is perfectly suited for picture frames. It's just what's needed to show off your favorite artwork and most cherished photos in a uniquely impressive manner. What's just as worthy of your attention is that frames of reclaimed wood can be designed in a variety of styles, so they'll harmonize with almost any interior design.
8. Redo Your Headboard in Reclaimed Wood
Not much can restore the appearance of a bedroom like a cleverly designed and constructed headboard. There's no prescribed way, of course, to attach a headboard. It can be – and often is – affixed to the bed itself. But a lot of homeowners these days like to have it fixed to the wall behind their bed. However you want it, a headboard created using reclaimed wood planking can be extraordinarily beautiful. It's natural hues and weathered features are easily adapted to a wide range of styles, from antique to modern. With reclaimed wood, your imagination can absolutely run free, letting you achieve the headboard of your dreams!
Inspiration Comes Easy with Reclaimed Wood
Our goal was to inspire you with these 8 ideas for getting the most out of reclaimed wood. Of course, we have so many other ideas to share – ideas that work beautifully with the reclaimed wood shutters we alone provide in Salt Lake City. Our experts would be pleased to show you samples of our shutters, answer your questions, and give you a range of other superb design ideas. Call us at 801-515-3598 to schedule your free in-home design consultation today!